!! Due to COVID-19 Pandemic and MN Governors Orders, the Amusement Park is not open and considered a Phase IV business. !!
The CAMPGROUND ONLY will open on June 1, 2020
OPEN DAILY
MEMORIAL WEEKEND THRU LABOR DAY
10am – 6pm
Admission Includes
Unlimited Use of Rides Open to Close
Ability to leave and return to the park same day
Paul greeting children by name
Pioneer Village (Museum)
Pauls Petting Barns (Barn Yard Animals)
Toddler
Ages 2 and Under
Free
Standard
Ages 3 – 64
$21.95
Senior
65 and Over
$18.95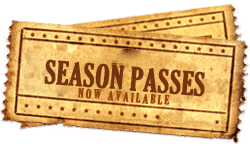 Season Passes Available
Standard: $109.75
Senior: $94.75
*Valid for Summer Season Only
Celebrate your Birthday with Paul
Celebrating a birthday? Contact us to reserve your birthday party today. Receive discounts and special treatment for the special little lumberjack or lumberjill.
Birthday Recognition from Paul
Birthday child admission is free with at least 6 paid admissions
Birthday child will receive $5 Babe Bucks that can be used anywhere at Paul Bunyan Land
Advance reservation is required.
Please Call us at 218-764-2524
Group Reservations
Recognized Organizations or School Groups
School groups for recognized organizations can contact Paul Bunyan Land about group rates and special event planning.